I am busy preparing for a workshop I am running at the Castle Museum York Saturday 1st October 2011. The workshop will be inspired by the Sixties Gallery in the museum. They have a fantastic collection of bright and groovy stuff. This is a photo I took on my last visit
Today I have been making a selection of ring blanks ready for the class to use.
The workshop will run from 10am until 3pm and is £20 per person
You will make your own funky sixties inspired plastic ring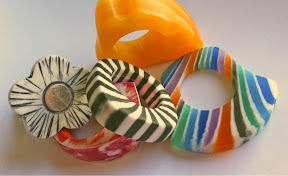 To book a place telephone York Museums Trust on 01904 650333
It is part of a much larger programme of events being organised by York Museums Trust (including a silver clay class on 12th May 2012) and there will be two days of taster sessions with demonstrations by some of the makers running on Saturday 10th September and Monday 12th September.
Why not come along and have a look and sign up for something interesting..... Hope to see you there!
Location:York, Castle Museum